Languages of the Jews of Iran:
A Series of Online Conversations and Performances
from HUC's Jewish Language Project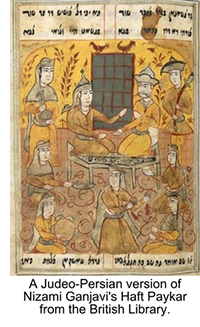 Jews in Iran historically spoke many languages from Semitic, Median, and Persian language families. The languages and dialects of Jews in different cities and towns were so different that their speakers often could not understand each other. Now these longstanding Jewish languages are endangered, as most Jews shifted to standard Persian in Iran or to Modern Hebrew, English, and other languages after emigrating.
This series from HUC's Jewish Language Project highlights this rich linguistic heritage. You will learn how Jewish languages compare to each other and to local Muslim, Zoroastrian, and Christian languages; you will be inspired by the elderly speakers and young activists who are working hard to preserve them for future generations; and you will be entertained by new songs in Judeo-Isfahani, Judeo-Hamadani, and Jewish Neo-Aramaic. Learn more about this series here:
https://www.jewishlanguages.org/events
Questions? Please contact Dr. Sarah Bunin Benor, Founding Director of the Jewish Language Project and Vice Provost at Hebrew Union College, at This email address is being protected from spambots. You need JavaScript enabled to view it. .
Historical and Linguistic Overview of Jewish Languages in Iran
Sunday, January 9 at 10:00 am PT / 1:00 pm ET / 7:00 pm Israel
In this engaging presentation, some of the world experts on Jewish Iranian languages — Dr. Nahid Pirnazar, Dr. Habib Borjian, and Dr. Thamar E. Gindin — explain the rich history, from medieval Judeo-Persian documents to diverse spoken languages and dialects today. The event ends with a new song in Judeo-Isfahani by Dr. Galeet Dardashti.
Judeo-Hamadani, Judeo-Isfahani, Judeo-Yazdi,
and Other Median Languages
Sunday, January 30 at 10:00 am PT / 1:00 pm ET / 7:00 pm Israel
How do the Iranian languages/dialects of various cities and towns differ? What work is currently being done to record them and share them with the public? Why is this work so important? Dr. Saba Soomekh moderates a conversation between Haideh Herbert and Haideh Sahim, who have been interviewing native speakers. Finally, attendees will be treated to a Judeo-Hamadani song by Farhad Heravi.
Lishán Didán and Hulaulá:
Jewish Neo-Aramaic in the Kurdish Region of Iran
Sunday, February 20 at 10:00 am PT / 1:00 pm ET / 7:00 pm Israel
In each town of the Kurdish region, Jews and Christians spoke different dialects of Jewish Neo-Aramaic. Dr. Geoffrey Khan gives a historical and linguistic overview and showcases an interactive map with recordings based on his decades of research. Shahnaz Yousefnejadian shares her long-term dictionary project of the Hulaulá dialect of Sanandaj. Alan Niku gives the perspective of a heritage learner/speaker. And musicians Alon Azizi and Adi Kadussi explain why it's important to record songs in these languages. The event ends with the world premiere of two new songs by Azizi and Kadussi.
Judeo-Persian in the 20th Century: New Research
Sunday, March 13 at 10:00 am PT / 1:00 pm ET / 7:00 pm Israel
Dr. Habib Borjian and Ibrāhīm Šafiʿī present personal documents written in Persian in Hebrew letters, and Alan Niku discusses the distinctive Tehran Jewish dialect of Persian based on recordings and fieldwork. Then, Cantor Jacqueline Rafii presents Passover psalms translated into Judeo-Persian and recorded by her grandfather in Tehran in 1971.
:
https://huc-edu.zoom.us/webinar/register/WN_gtiH87y7Tgar3aL3vFMRTQ?_x_zm_rtaid=hPamyOMYRau76ZiAidZkyg.1641796013059.3326ea3f174cf609367f5c14126ed648&_x_zm_rhtaid=509
We invite you to support the important work of documenting and revitalizing Iranian Jewish languages.
Sponsored by the HUC-JIR Jewish Language Project, Iranian American Jewish Federation, Nessah Synagogue, and USC Casden Institute. Co-sponsored by 30 Years After, American Jewish Committee, American Sephardi Federation, ASF Institute for Jewish Experience, Be'chol Lashon, Endangered Language Alliance, JIMENA, SHAI: Sephardic Heritage Alliance, Inc., UCLA Alan D. Leve Center for Jewish Studies, and Y&S Nazarian Iranian Young Leadership Initiative of the Jewish Federation of Greater Los Angeles.